Articulate's E-Learning Heroes Challenge #167 is all about creating a rotoscoping animation demo for e-learning courses. To see my demo, click the image below.

I had actually never heard the term "rotoscoping animation" before, but when the classic Take On Me music video from the '80s was referenced, I recalled the cool hand-drawn animation effect that was used.
Rotoscoping is a technique used by animators, where they trace over motion picture footage, frame by frame, when realistic action is required. I wanted to try to replicate the effect. The problem is, it takes a long time to do that!
Since I don't have time to spend several hours on producing this effect for e-learning, I tried using a shortcut involving PowerPoint's Artistic Effects filters. 
Tutorial
I created my "rotoscoping animation" effect in less than half an hour! To view the tutorial on how I did it, click the image below.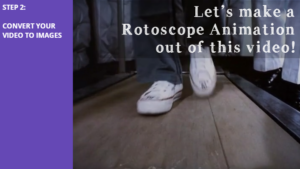 Authoring Tools: PowerPoint 2016, Storyline 360