Widget Review: Change the Colors of the Modern Storyline 360 Player!
This Leadership 101 template is another submission to E-Learning Heroes Challenge #230: Course Starters: E-Learning Templates for Leadership Training. Click the image below to view the Storyline demo template.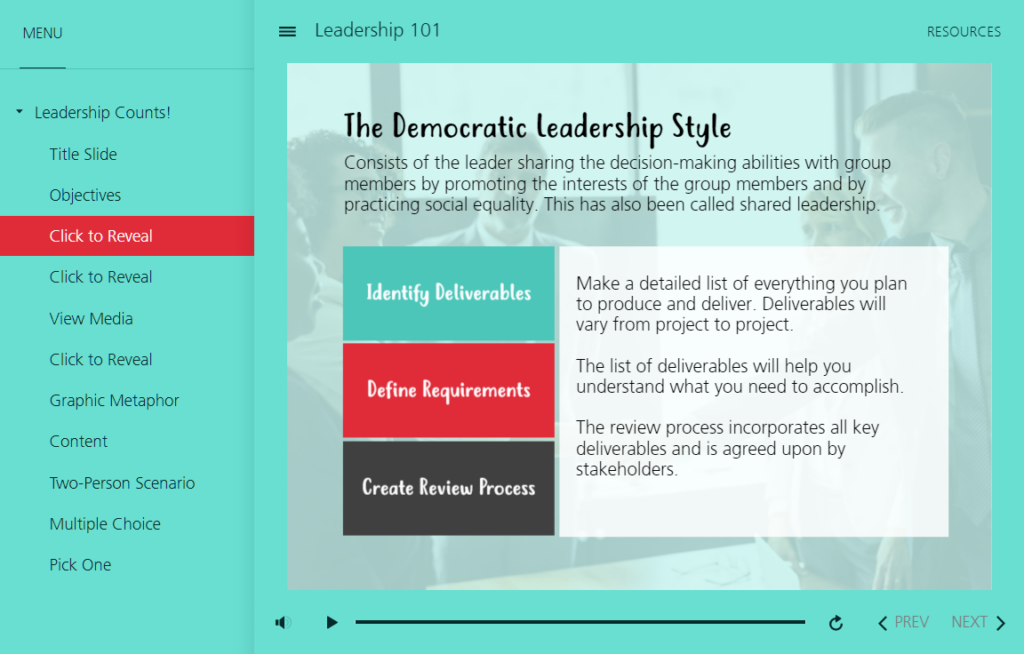 Free Template from Articulate
I started creating this demo by leveraging Nicole Legault's Three Tabs Template, which you can download for free on the Articulate E-Learning Heroes website: https://community.articulate.com/download/storyline-360-3-tabs-templates
To make the template my own, I added several interaction slides from the Articulate Content Library, and changed the color of Storyline's Modern Player!
Editing the Modern Player
Those of you who have an Articulate 360 subscription know that Storyline 360 has two player options: the Classic Player and the Modern Player. The Classic Player can be extensively customized, including choosing your own colors for every aspect of the player. However, the Modern Player has only two overall color options: light, or dark.
In order to customize the colors of the Modern Player, I had to look for help outside of Articulate.
Cluelabs
I discovered Cluelabs, a company that offers free, nifty widgets for several eLearning software applications:
Ready-to-use widgets powered by Cluelabs cloud for your Articulate Storyline or Adobe Captivate elearning course.
Using their Storyline 360 Modern Player Custom Colors widget, I created a turquoise player for my Leadership 101 course starter template.
Your Thoughts
How about you? If you create eLearning courses using Storyline 360, have you missed the ability to customize the colors of the Modern Player?
Authoring Tools
Storyline 360