E-Learning Heroes Challenge #230 is: Course Starters: E-Learning Templates for Leadership Training. This week's challenge from Articulate is to share a course starter template for leadership training.
Click the image below to view the Storyline version of my comic book style demo.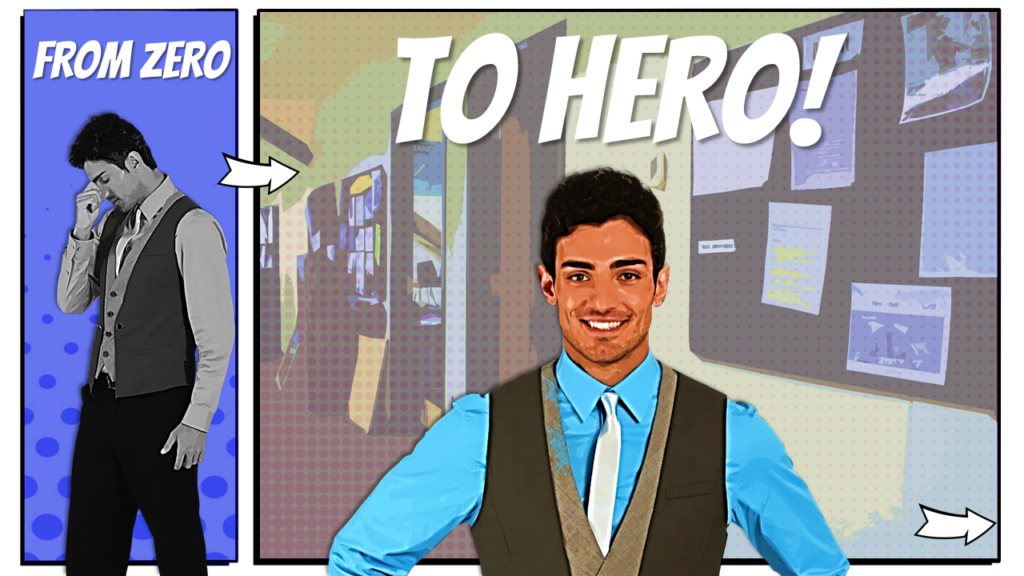 Creation Process
I started creating this demo by leveraging Paul Alders' PowerPoint template, which you can download for free on the Articulate E-Learning Heroes website: https://community.articulate.com/download/powerpoint-comic-strip-template
To make the template my own, I changed the colors on the slide master backgrounds, using PowerPoint's picture tools. I like bolder colors for comic books, so I darkened and increased the color saturation and color contrast on most of the background images. (I thought it would be quicker and easier than it was, because I thought the backgrounds were shapes rather than images! So, I'm not sure I actually saved myself much time in this process!)
I replaced the existing fonts with some I already had on my computer (Bangers & Back Issues BB – both can be downloaded for free), and decided to go with photographic images, rather than cartoons, for the characters in the scenario. I altered the photographic characters by using PowerPoint's artistic effects. Then, I included some office backgrounds, again altered by using PowerPoint's artistic effects tools.
PowerPoint Versatility
I like creating in PowerPoint when I want to manipulate images extensively, using PowerPoint's image-editing tools. It makes for a smoother workflow for me, rather than uploading images into Photoshop, editing them, then downloading them from Photoshop and uploading them to an eLearning application. When I've edited all the images in the PowerPoint to my satisfaction, I can upload the PowerPoint to Storyline, or use Articulate Presenter, to finish my eLearning course and add interactivity. Sometimes I export the PowerPoint to video, and use Camtasia's video-editing tools and quiz capability, too.
Free PowerPoint Template Download!
Download my version of the comic book template here.
Authoring Tools
PowerPoint, Storyline 360