This is yet another entry for Articulate's E-Learning ELH Challenge #171: Course Starter Templates for the Healthcare Industry. This Storyline 360 template can be customized to suit your needs.
Select the image below to view the demo.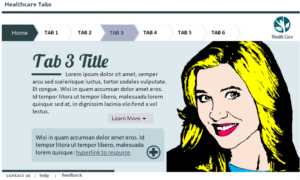 For this health care tabs template, I used the "scrubbed" font below to create characters with a medical theme.

Using PowerPoint, I added color to each font picture, before uploading them to the Storyline template.
Download the the FREEBIE:
E-Learning Hero Inspiration
This template was inspired by Trina Rimmer's Storyline tabs template, available at: https://community.articulate.com/download/storyline-2-progressive-tabs
Authoring Tools: PowerPoint, Articulate Storyline 360