The Velociraptor is my submission to Articulate's E-Learning Heroes Challenge #347: Using 3D Models in E-Learning.
Authoring Tools
To create the LinkedIn promo for this demo, I used an animation application new to me, called CreateStudio.
I created the Velociraptor demo in PowerPoint, using the application's 3D Model Tools, morph slide transitions, & applied zoom & fly-in animations to the text boxes.
I did a screen capture of the PowerPoint slide show with Camtasia, then added music, sound effects, and an animated end title sequence with the video-editing software. (I've found that saving a PowerPoint slide show as a video does not give me as high a quality video as doing a screen capture, when there are many slide transitions and animations in the presentation.)
Free Download!
PowerPoint comes with plenty of free templates and themes. When you open the application, you can search for templates in various categories, as shown in the image below. I searched in the Education category, and found this school report template, which I modified for this presentation. To check out how the morph transition works, you can download the template here: Velociraptor PowerPoint template.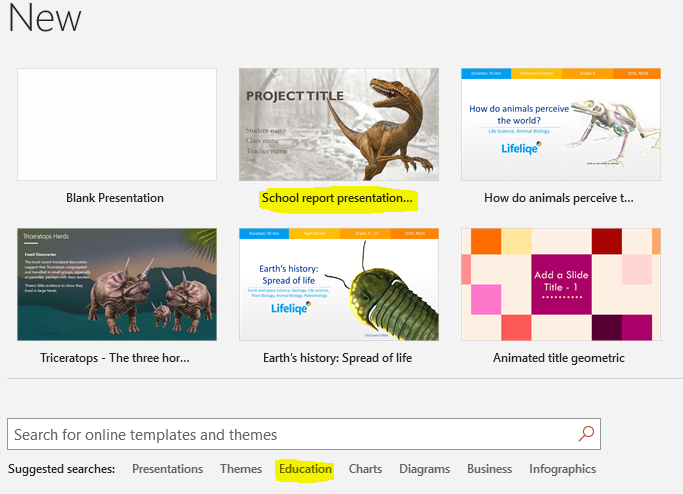 Bonus Download!
It is possible to create 3D promos for your work, using PowerPoint. The example above was made with PowerPoint and exported to video.
Download the editable PowerPoint version here.